"While words form the backbone or basic structure for the piece, "Anaïs: A Dance Opera" is at its heart a work of dancing and dancers, executed with great care and respect for its subject. There are no show-off high notes for the singer, and no high-kicking finales for the dancers. Instead we, as audience, are given the deeper role of experiencing an emotional extrapolation on the subject of one author's life."
- James H. Carlin, Santa Monica Observed (full review)
"Elegant and unique"
"Employing edgy music and thoughtful compositions, complemented by Roston's dreamy, lyrical and passionate choreography, Shapiro acknowledges Nin as an important literary figure."
- Pauline Adamek, artsbeatla.com (full review)
"Sensuous, compelling and thought provoking"
- Christine Gallagher, Huffington Post (full review)
"The music to Anais, A Dance Opera is simply stunning and complex. It matches the intricacy and multi-dimensional layering of Anais Nin's inner and outer life."
- writer Sheryl Aaronson (full review)
"Roston and Shapiro's hybrid theatrical is a smashing show for the ensemble and the stars. ..Shapiro's very good music, in a variety of styles, is a set of nine pieces that tell Nin's story chronologically, along with digressions into the "interior cities." Roston's choreography is a thrilling interplay of principals and ensemble"
RECOMMENDED - Stage Raw (full review)
"Putting a whole life onstage is a nearly impossible challenge: There's so much to tell, and so little time. Anaïs takes us into an incredibly complex life, and does it more effectively — and poetically — than any theatrical biography I can recall."
- theatreghost.com (full review)
"Wow-wow-wow! Totally Amazing."
"The choreography by Janet Roston was both brilliant and daring."
- Suzanne Birrell, Discover Hollywood (full review)
"...seamless marriage of all the elements presented: the lyrics, visuals, choreography, performances and music... a wonderful tribute."
- Jeff Slayton, SeeDance.com (full review)
"What a terrific production! Choreography and music are brilliantly paired. The ensemble is excellent and the costumes are most impressive. Marisa Matthews (Eternal Anaïs, Vocalist) is exceptional! It's worth the price of admission to hear her. It is one of our FEATURED events. GO!"
- Performing Arts Live (full review)
INTERNATIONAL REVIEWS:
2018 Paris/Casablanca Tour:
"The performance was beautifully staged and executed. The talent of the performers "formidable," particularly the singer and lead dancer. Catch it if you can!"
- Adrian Leeds, Parler Paris, AdrianLeeds.com
"This is a beautiful show that made fantastic use of our theater, it was a perfect fit. The dancing and vocals were sublime. Our audience loved it."
- Adrian Pierini, Artistic Director, La Nouvelle Eve
"I saw this production at the Avignon Festival last July '17. The story was compelling, the dance, vocals and visuals breathtaking and with theatricality combined in a new and unique way. I knew I had to bring it Casablanca. The audience response proved me right, it was the hit of the International Theatre Festival."
- Noureddine Ayouch, President, La Fondation des Arts Vivants
"Women, Love, and Sexual Identity. These were a themes of the masterpiece "Anaïs, A Dance Opera," directed by Janet Roston, which opened the International Theatre Festival in Casablanca. This production, a melange of music, dance and theater was beautiful, intelligent and thought provoking."
- Aujourd'hui Le Maroc
2017 Festival OFF D'Avignon:
"This is an American show, the quality is outstanding. The artists are multidisciplinary and not a single misstep spoils the production. Besides discovering or rediscovering Anaïs Nin, a feminist before her time, the audience will get great pleasure in the quality, beauty and brimming enthusiasm at the heart of this stunning show."
- boiteaculture.com
"Each year, The Festival Off of Avignon reveals a special, stand-out production for its immense creativity. The energy and amazing dynamics of the dancers, the gorgeous voice of the singer, the beautiful projections and the music take the audience in to a dreamlike universe. A large "Bravo" for the radiant music of Cindy Shapiro and the sparkling choreography of Janet Roston. Is is one of the strongest productions of the Festival Off 2017."
- MPA Communications
"Amazing..strong, intelligent and inventive..resonates strongly. A vibrant and bold portrait of Anaïs Nin, a "woman in the world of men," female pioneer, and writer of erotic books who dared to lift the veil on the mysteries of female desire.
- Festi.tv
This production succeeds extremely well through a series of tableaux vividly representing her life in phrases, in moments. Nothing is forgotten, props, lights, music, dance, text, all with precision and a well-constructed story. Bravo to composer Cindy Shapiro, to choreographer Janet Roston and projection designer Joe LaRue. A marvelous moment that we could very well see again in Europe in the near future.
- revue-spectacles.com
This show is large in all ways, style, scope and quality. The American troupe from Los Angeles of six dancers and a singer are all excellent. The challenge? To present in dance and projections the tormented life of Anaïs Nin. This bold challenge was met by Janet Roston, contemporary choreographer, and Cindy Shapiro who wrote the music and lyrics. Their well developed work was a success at the Festival Off d'Avignon. At the performance I attended the hall was full and the audience embraced the production with enthusiasm.
- regarts.org
ADDITIONAL REVIEWS:
Huffington Post (full review)
LA Weekly (full review)
Santa Monica Observer (full review)
Hollywood 360 (full review)
LISTINGS & ARTICLES:
"The Los Angeles Dance Scene. Yes, There Is One." The New York Times
'Dance Opera' celebrates the eternally provocative Anaïs Nin - Jewish Journal
"Janet Roston Directs And Choreographs Novel Take On Life Of Famed Diarist Anais Nin" - Beverly Hills Courier
"ANAÏS, A DANCE OPERA: An Interview with the Creators Janet Roston and Cindy Shapiro" - Agendamag.com
Do LA - "Janet Roston and Cindy Shapiro present Anaïs, a Dance Opera"
Eventful - Anaïs, A Dance Opera in Los Angeles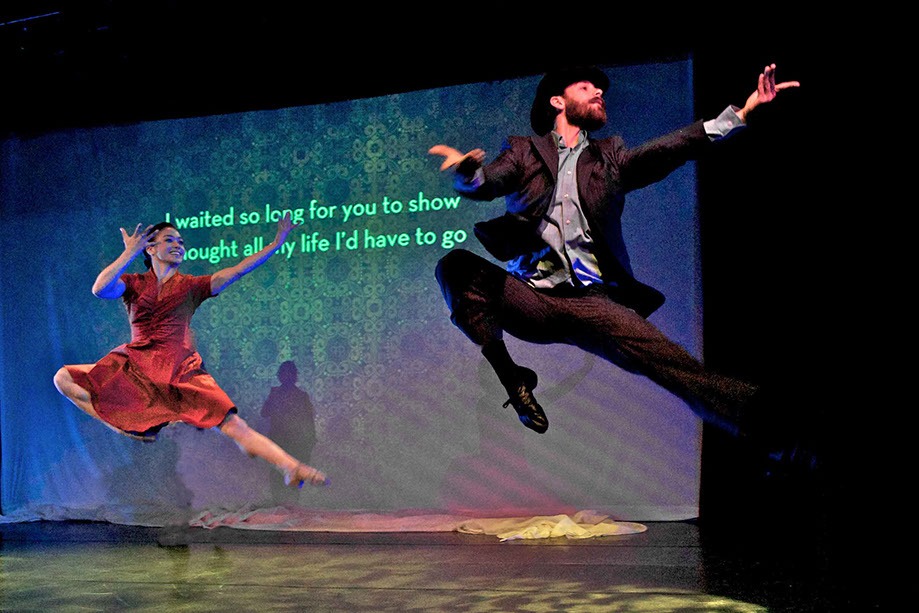 Janet Roston, Director/Choreographer, Cindy Shapiro Composer/Lyricist of Anaïs Nin: Unbound offer workshops in dance, theatrical movement, choreography, vocal training, music composition, collaborative creation and research techniques. Workshops tailored to all levels and ages. Many of these workshops can be open for large group community events.
DANCE TECHNIQUE, DANCE REPERTORY, STORYTELLING THROUGH MOVEMENT
Dance Technique
Contemporary dance for all levels
Repertory from "Anaïs Nin: Unbound"
Repertory could include: "Little Innocent Girl," "Dream/Guernica," "Train," "To the Edge"
Basics of Dance Composition
Master class or extended residencies in elements of movement and choreography.
Movement composition derived from classic literature
Use of characters, plot, tone, setting and storyline to create movement studies.
Choreography from personal experience
Use of journals, dreams, blogs as a jumping off point to create compelling dance
Creating movement studies from the Cafe Culture of Paris, Artists
Using artists of the time and the art movement they represent; cubism, surrealism etc (Pablo Picasso, Salvadore Dali, Chagall) as inspiration for dance and theatrical movement studies.
Creating movement studies from the Cafe Culture of Paris, Literature
Using writers of the time (Ernest Hemmingway, F. Scott Fitzgerald, Henry Miller, Gertrude Stein) as a basis for movement studies. Using themes, vocabulary and visualization as well as specific scenes from literature for the development of movement studies.
MUSIC COMPOSITION AND VOCAL TECHNIQUE
Vocal technique
All levels — basic vocal technique, including pitch issues, vocal placement, smoothing out vocal registers, larynx control, and breathing
Songwriting
Starting with a premise and working our way through the composition of the song.
Theory Perspective
Musical discussion of pieces from the opera, lead sheets provided for the class for discussion purposes — "Cold Cold Night", "Hugh", "Delta of Venus", "You See Me", "Lie Box" Discussions of harmonic theory and rhythm theory around some of the more complex songs in the show.
NIN'S ROLE, COLLABORATIVE PROJECTS, RESEARCH TECHNIQUES
The history of Anaïs Nin — more in-depth than the show can go
An in-depth look at her life and work
Collaboration in Creating Work
The art of working with other artists
Research techniques
Preparing the bed of the narrative through careful research
Janet Roston, Educator, Dance and Movement for Theater
A master dance educator, for many years Janet was the Artistic Director of Beverly Hills High School's acclaimed Dance Company whose members have gone on to form their own successful dance companies and become professional dancers, actors, musicians, graphic designers etc. She has taught dance and movement for actors internationally in London at Millennium Performing Arts Academy, London Studio Centre and Arts Educational as well as teaching in Toulouse and Cannes. National master dance/movement classes includes UCLA, Cal State Long Beach, CAHPERD, Atlanta's Pebblebrook Arts Academy and Boston Conservatory. Janet has a BA and MA in Dance from UCLA and a California teaching credential in Physical Education, Dance, English and Elementary Education.
Cindy Shapiro, Educator, Music and Vocal Technique
Cindy's journey to composing "Anaïs" has been varied. As such she her teaching background is diverse yet interrelated. As a music instructor she has taught music theory, vocal technique, music appreciation, songwriting and conducting. Currently she is a private vocal coach working with rank beginners with pitch issues to professionals who want to elevate their craft. She has been a video game coder applying this background to teach technology to students, including logic, set theory, coding and gaming applications. Cindy has a degree from Antioch University with a focus in Music Composition and a Kodaly Music Pedagogy Certification from Cal. State Univ. Long Beach.